APC ALPINE PEST CONTROL Stinging Insects
Bees | Yellowjackets  |  Wasps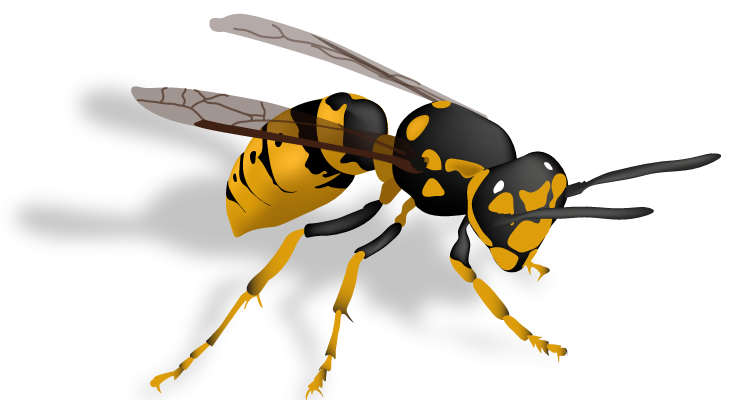 Yellowjacket is the common name in North America for predatory wasps of the genera Vespula and Dolichovespula. Members of these genera are known simply as "wasps" in other English-speaking countries. Most of these are black and yellow; some are black and white like the bald-faced hornet, Dolichovespula maculata.
Others may have the abdomen background color red instead of black. They can be identified by their distinctive markings, their occurrence only in colonies, and a characteristic, rapid, side to side flight pattern prior to landing. All females are capable of stinging. Despite having drawn the loathing of humans, yellow jackets are in fact important predators of pest insects.
Yellowjackets, wasps, and hornets may look alike and have similar characteristics, but they can be very different in their level of aggressiveness and their habits. It is important to properly identify this type of stinging insect in your home or garden before attempting any type of control.
Yellowjackets are normally very slow to sting, but they are also very territorial. If the entrance to their nest is approached, they will become very aggressive. They can sting multiple times, and their stings can be very painful. People who are allergic to their venom could have a severe reaction, and it is possible to become hypersensitive to yellowjackets after being stung. This sensitivity could cause a serious problem if stung again in the future.
These species have lance-like stingers with small barbs, and typically sting repeatedly, though occasionally a stinger becomes lodged and pulls free of the wasp's body; the venom, like most bee and wasp venoms, is primarily only dangerous to humans if allergic, unless a victim is stung many times.
All species have yellow or white on their faces. The mouthparts are well-developed with strong mandibles for capturing and chewing insects, with probosces for sucking nectar, fruit, and other juices.
Yellow jackets build nests in trees, shrubs, or in protected places such as inside man-made structures, or in soil cavities, mouse burrows, etc. They build them from wood fiber they chew into a paper-like pulp.
Many other insects exhibit protective mimicry of aggressive, stinging yellow jackets; in addition to numerous bees and wasps.
It is very important, if you believe there is a yellowjacket nest on your property, to call a pest professional. Attempting to remove the nest without a professional could result in being stung or driving the insects into your home. Proper removal requires special equipment and safety precautions and is best handled by a professional.